Latest Fad: Hijacking planes and committing suicide when you screw it up.
#1 Song: 
Score: Washington 54, Oregon 0
In retrospect, Rich Brooks could have been forgiven for being a bit optimistic during his first season at Oregon in general, and about his first shot at the Huskies in particular.
The billboards around Eugene read "The dawning of a new era of Oregon Football!" and featured the stoic, unsmiling gaze of a confident young coach, superimposed over the majestic Three Sisters, silhouetted by the rays of the sun. (A wise-ass observer noted that, based on the arrangement of the peaks, the "new day" was actually a sunset.)
Brooks and his young Duck team hadn't exactly shocked the nation. With losses at Georgia and at home to Wisconsin sandwiched around a road victory at lowly TCU, the team had been more competitive than expected.
"[Brooks has..] whetted a moribund appetite. Expectations have been raised. To be in the game is no longer enough. And let's hear it for that."
-- Register-Guard columnist Blaine Newnham
In nine months on the job, Brooks had shaken the tree. Suddenly, Oregon had one of the highest-paid coaching staffs in the league, and it seemed there might at last be some stability and discipline. LB Reggie Grant: "Before, we didn't know how to work hard enough to win. This new staff will not coach down to a loser's level."  DB Bruce Jensen: "Coach Brooks knows how to win and will make the changes necessary to win.. The other coaches wanted to win, but they hadn't been places that had won. Coach Brooks is more realistic." 
Even QB Jack Henderson, an ardent Don Read supporter, admitted he'd gotten it wrong. As a member of the steering committee for the coaching search, Henderson said "it was hard to sit there and listen to him criticize the offense we ran last year (in a 46-0 loss to the Bruins), but he told us it was the easiest offense UCLA had to defend last year, and showed us why." And Brooks had already showed a willingness to recruit hard against the California schools, and had yanked JC transfer LB Willie Blasher away from Cal, UCLA and Stanford.
Brooks told reporters "if Oregon had never won in football, it would be foolish for me to come in here and think I could win. Lately it just hadn't been important to win. Football is again important at Oregon."
So, the groundwork was laid. Things were changing. It was the dawning of a new era. No more blowouts. And even after a 20-10 loss on the Farm to Darrin Nelson and Stanford, the Ducks were coming home hungry; they'd been in the game, and Brooks thought they should have won.
It was time to get over the hump, and the Huskies looked ripe for humping.
**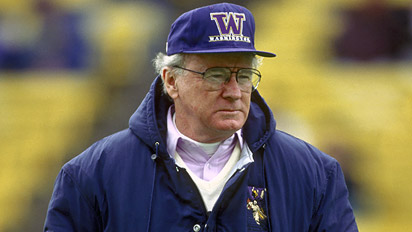 Third-year Husky coach Don James hadn't yet set the world on fire.  They'd only played .500 ball his first two years, but after a couple of top-tier recruiting classes, at least one national pre-season mag had pegged them for 11-1 in '77, and others had them finishing 2nd to USC. James was having none of that; he was talking about his four-year plan, and it was merely year 3. James wanted to dampen expectations.
His team was helping him out with that. Coming into the Oregon game, they had played four games with only a win over San Jose State to show for their efforts. Eugene marked UW's third consecutive road game. The trip started out with a bad effort at Syracuse - a bad team that had lost earlier to Oregon State --  where the Orangemen had won on a last-minute field goal to snap a six-game losing streak; then a revenge loss at Minnesota, on another last-minute field goal. 
The Huskies were banged up. Three out of five offensive linemen were injured against Minnesota and stayed in Seattle; Warren Moon, fighting a foot injury that had limited him all season, would be standing behind a line consisting of a walk-on sophomore guard (converted from a tackle), a second-string guard, a converted center at tackle, and a sophomore playing in his first collegiate game at the other tackle. And starting tailback Joe Steele was recovering from a groin pull.
Worse, the Huskies seemed to be losing the rabid support of the Seattle community they had become accustomed to. The Seahawks had just opened their first season in the Kingdome, and several years of horrible teams under former coach Jim Owens had led to a fair amount of apathy. Exhibit one: As of the day before the Oregon game, the UW athletic department reported it had sold all of ten student tickets for Autzen - all ten having been purchased in the last two days. Overall, only about 1,400 seats had been claimed by Husky fans. This, of course, left more seats for Duck fans.
Thus the 1977 Border War was a battle between teams with identical records, but divergent characters. One team had played below expectations, and one had been surprising most observers (if not its coach). Washington had superior talent, but was battling injuries, while Oregon was thin but relatively healthy. A good crowd of potentially-rabid Duck fans was expected. All of this was reflected in the spread, which had UW favored by a touchdown; a pre-season prediction would have likely been in the low 20s. 
Brooks liked his team's chances. "They're a pretty good defensive team," he said of the Huskies, "but they haven't played as well as they have in the past, for some reason.
"It's a very critical game for us. We play USC and LSU after this, so obviously, we've got a better chance to win against Washington."
"This game," Brooks said, "more than likely will be decided on turnovers - somebody coughing up the ball deep in their own territory."
**
The game may not have been decided on turnovers, but it certainly started out that way.
If Don James had lost confidence in his team, it didn't show. Facing fourth and one on his own 30 in the opening series, James elected to go for it. The Ducks jumped offside. First down, Huskies. UW moved downfield, settling for a field goal.
On Oregon's first play from scrimmage, RB Ed Radcliff fumbled. "It might be lack of concentration", he said. Three plays later, UW back Joe Steele scored. 10-0, Huskies.
Next series. One run, then Henderson muffs a pitch to Don Davis, Davis can't get to the ball in time and S Kyle Heinrich recovers for UW. Six plays later, Steele scores again, and it's 17-0, Huskies. 
In the 2nd quarter, UW RB duo Joe Steele and Ron Gipson took turns gashing the clueless Oregon defensive front. First, 47 yards on three runs, Kyle Stephens diving in from a yard out to make it 24-0. Brooks swapped in freshman Dan Daly at QB, for no reason other than he felt like it; James responded by dialing up blitzes, and after a couple of sacks it was 4th and forever at the Oregon 3. Geiger, punting from the back of his endzone, saw UW linebacker Bruce Harrell almost get to him before the snap did. Geiger's kick was blocked out of the end zone. 26-0. A free kick, UW had the ball again, and nine plays later it was 33-0 on a pass from Warren Moon to TE Scott Greenwood.
And, nineteen seconds later, Oregon finally made a first down.
The laughs continued. The Huskies couldn't lose for winning. In the third quarter, after another three-and-out, Geiger shanked a 23-yard punt to his own 44. Moon hit receivers on four straight passes; on the last, Oregon DB Kenny Bryant finally forced a mistake, stripping the ball from receiver Kyle Stevens.. only to see Greenwood grab the ball and jog two yards into the end zone. 40-0, UW.
Another bad punt by Geiger, and the Washington depth chart went to work. 47-0 after three, then another turnover, a fumble by Vince Williams on his own 28 yard line, led to the last score on another run by Stevens. Washington 54, Oregon 0.
Fittingly, the final possession by the Ducks ended with a fumble on their own 7 yard line. Perhaps having learned a lesson from 1974, when former UW coach Jim Owens lost his starting QB for the season with a broken leg after putting him in for the final series with a 59-0 lead, James ordered his backup QB Duane Akina to take a knee three times and run out the clock.
**
The Ducks had severely miscalculated on defense, and couldn't make adjustments during the game. They came out in a 6-2 alignment, showing an eight-man front, in an attempt to take away Moon's out-routes and end runs. Fine, said Moon, and the Huskies alternated between gashing the outmanned Oregon line up the middle on runs and vertical passes to backs and TE Greenwood.
"Their strong safety was blitzing a lot, and I'd just go to the area he left." 
-- UW tight end Scott Greenwood, who caught 7 passes for 120 yards and a TD
Oregon's offensive output of 97 yards, on 58 plays, stands to this day as the worst performance by an Oregon team in the post-war era. Geiger punted 9 times and averaged 30 yards.  Oregon had six turnovers; UW lost four fumbles, but they didn't matter, as Oregon routinely played the gracious host and returned the ball.
The Ducks were stunned.
Brooks: "We weren't ready to play.. We didn't do anything right all day.. Everything we did was wrong."
Did they quit?  "No, we didn't quit. We never got started."
"I would have bet my salary that there was no way Washington could score more than 20 points against us."
The home crowd was equally stunned. Newnham: "Saturday's loss was different because Oregon has a new coach, and because the crowd didn't dwindle to nothing. And didn't turn on the Ducks." Still, the first car, a clapped-out grey Vega, was spotted leaving the parking lot with 2:20 left in the first half.  And if the crowd didn't dwindle to nothing, it certainly dissipated, with a third or more of the fans out of the stadium by the 4th quarter. Eugene police called in on overtime to work the expected post-game traffic jams found themselves with little to do.
Local insurance broker Ken Higgins, before the game, noted the party atmosphere of the tailgaters. "It's this kind of thing that's going to save Oregon football," he said. "It has to be a social occasion to bring people out. If it all hinges on whether we win or lose, it's a lost cause."
Given mid-70s Eugene's attitude towards social convention, to say nothing of the local football team, it wasn't a capacity crowd. The official gate was 29,500; Eugene was, obviously, still in a show-me mood regarding the Ducks, regardless of the new coach and attitude.
Those who stayed home, or went fishing, or just stayed in the parking lot, had the right idea. The team that had been in the doldrums found new wind under its sails;  the team that had to learn how to win, learned instead what it's like to get its teeth knocked in by a rival.
**
Days later, Brooks was still fuming over the fumbles early in the game, at least one of which films showed should not have been awarded to Washington. Showing the hubristic denial of the young coach, Brooks said "I know it's a hell of a game if we get that fumble."
The next week, at USC, the scoring drought continued. But, down 26-0 at halftime, Oregon cams storming back, holding the Trojans to a single score, and another moral victory was recorded in a 33-15 loss.
A return trip to the SEC found even more Southern hospitality. Up 49-17 with six seconds left, LSU put its starting tailback Charles Alexander - who had already broken the school record for rushing yards with 235 -- back into the game so he could score from two yards out and set a school record. What did Brooks tell Tiger coach Charlie McClendon during the post-game handshake? "I told him I wish Alexander would have broken a leg, along with a couple of records."
The humbling of the first-year coach continued in Pullman, with a 17-14 lead in the 2nd quarter turning into a 56-20 loss to Jack Thompson and WSU. In the third quarter, Henderson went down with a knee injury, and Oregon faced fourth-and-inches at its own 20. Like James a month earlier, Brooks went for it, but new QB Tim Durando couldn't convert on a keeper. The Cougars took over, scored two plays later to make it 35-20, and the rout was on as Wazzu rolled up 377 yards on the ground.  Et cetera. The saving grace of the season was the soon-to-become-ritual season-ending beatdown of the Beavers, 28-16, giving Brooks a first-year record of 2-9, and a ride off the field after the game.
source: Oregon Football Media Guide, 1981
History notes that first-year Oregon coaches had compiled a rather dismal record across the board. Read went 2-9. Dick Enright was an ugly 4-7; Jerry Frei, 2-8. Len Casanova beat Arizona and Idaho, and was soundly pummeled by ever other opponent in 1951. In the post-war era, only Jim Aiken, who went 7-4 in 1947, had a winning season in his first campaign, until Mike Bellotti reversed the curse in 1995.
**
As for Washington, Don James made lemonade of that 1-3 start in 1977, winning his first conference championship by going 6-1 in the last year of the Pac-8, and beating Michigan in the Rose Bowl. It was the first of six conference championships for James in his 18 years at Washington.
Warren Moon was Rose Bowl MVP, and went on to a stellar professional career; he is the only player to be enshrined in both the NFL and Canadian Football Halls of Fame, and gets to spend his retirement getting paid to do things like this..
And I can't include a Debby Boone clip in anything I write without providing some balance, so for the record, this is what I was listening to in the fall of 1977...