The only thing we have to fear is fear itself. Oh, and Fresno State Bulldog football in Week 1.
I fear for this Saturday. My fear is partly justified; look how well the Bulldogs performed in Week 0, this is not the match up we want to open any season with, let alone a season in which expectations are so high. My fear is partly unjustified; Pat Hill is 69 years old now and coaching at UC Riverside, he shouldn't scare me anymore. But nonetheless, I am afraid. It's in my nature.
When I was 10 my family moved to a new city and I started 5th grade as the new kid from out of town. I quickly acquired a pack of bullies, led by the alpha-bully whom I'll call Patrick, because that was his name. Patrick was the shortest kid in class and had frizzy red hair. Patrick singled me out for the apparent faux paux of wearing blue Sperry Topsiders (this was the 80's, I had a Magnum PI fetish) and being a very shy and introverted kid.
Patrick was relentless in his torment of me during the first weeks and months of the school year; every day I was visited with escalating insults and physical taunts. It got to the point where I began to feign illness to avoid having to attend school, never letting my parents know the real reasons I was trying to get out of class. Finally, when my dad forced the subject and I squealed on Patrick and his gang, I was given "permission" by my father to let Patrick know I didn't appreciate his attention.
The very next day, while waiting in a post-recess line to reenter the school, Patrick started up giving me the business about my blue shoes again. I didn't say a word in my defense and instead, I simply executed a snappy little jab into Patrick's nose, producing a glorious fountain of red accompanied by sparkling little Patrick tears rolling down his fucking freckled face.
Patrick spoke not a single word to me for the remainder of the school year and all the way through the following year, our last together. My fear of Patrick was unjustified.
But let's talk about Fresno for a moment. My first experience with the State of Fresno as an adult came while I was working in labor relations in California. Tasked with heading to Fresno one day to meet with a business owner who was "having some troubles" with some of his employees and his Local, my boss proceeded to tell me the last time he went to Fresno on a similar premise he had a gun pulled on him during his "meeting" with the Local, which turned out to be run primarily by Hells Angels. Great.
After the beautiful drive down the Central Valley, I met with the business owner, a kindly old man. The first words out of his mouth were "I didn't know I was hiring the Hells Angels to work for me, and now they have all my equipment stored at their compound and I need you to get it back for me." My fear of Fresno is justified.
What does any of this rambling nonsense have to do with the Ducks' upcoming game? Nothing, except to highlight my fear of Pat's and Fresno and somehow come to terms with it in the next 4 days.
The first step to conquering our fears is to simply learn more about them. For this reason, I invited Bulldog football fans of reddit to participate in a Q&A by answering 13 questions about their favorite football team. I will also be riding for my patch with the local chapter of Hells Angels.
Many thanks to redditor sidious256 for taking time out of his busy schedule of Hells Angel'ing (probably) and other Fresno things and stuff, to answer the questions Duck fans want to ask most.
[editor's note: lightly edited for readability with sidious256's permission]
1. Who's one Bulldog player for Oregon fans to watch on offense, and what should we look for? Not necessarily your most prolific offensive player - let's hear about guys that provide something unique for your team or are otherwise instructive of the type of team the Bulldogs are.
Initially my thought goes to obviously the QB Jake Haener, transfer from Washington, and Star RB Ronnie Rivers who broke the all time School Record against UCONN last week, both lead the offense well. But the unique player in my opinion has to be Jalen Cropper, Junior WR. He does well on the ground in end around plays, great receiver both short and deep throws, all around a phenomenal all purpose yard character when they call his number. I foresee him being the person to be called upon against Oregon more than he usually is.
2. And how about one on defense?
Defense is that strong defensive line. Oddly enough last year (not a great year to have it this high but it was none the less,) Fresno State was 3rd overall in sack count. This was lead by Kwami Jones/Kevin Atkins. Of the two, I believe Kevin Atkins has improved the most. It's about collapsing the pocket for them more than just straight chase the QB. It will be [critical] for this line to get through that stout OLINE to put pressure on recently named QB Anthony Brown JR of Oregon.
3. Describe your team in 5 words or less.
"Anyone, Anytime, Anywhere." It is the mantra of the team for decades, as they are ready to do just that; play anyone, play anytime, play anywhere. I believe this to this day, which is why within the past 5 years Fresno State has played teams from Alabama, to Minnesota, USC to Washington.
4. How about the "typical" Fresno State fan, 5 words or less? Give us the stereotype!
"There's always next year." It's unfortunate how much you hear this, and see the fans when you are so close to greatness as a team and slip up once. Many fans will pack the stadium for two quarters, then leave at halftime! I would also like to add "bulldog born, bulldog bred." Fans do travel well though and it's a deep-rooted base across the USA which is why the Minnesota and Alabama game had so many fans for Fresno, either from Fresno, or went to the school. It is well known by commentators on TV that Fresno, Boise, and Hawaii, all from the Mountain West, travel super well.
5. Favorite Fresno State game of the past 20 years?
This has to be the 2018 MW championship against our rival Boise State in Boise, to win in overtime on the Smurf Turf. So much was in the heart of that team and it was truly special.
6. Who is the all-time best player to have ever donned the cardinal and blue?
Very tough question here! The Carr brothers come to mind, as well as WR Bernard Berrian, Ryan Mathhews, but I would have to go with David Carr. What he accomplished at this school was truly something special and made Fresno to rank #8 at one point before the aforementioned "there's always next year" moment.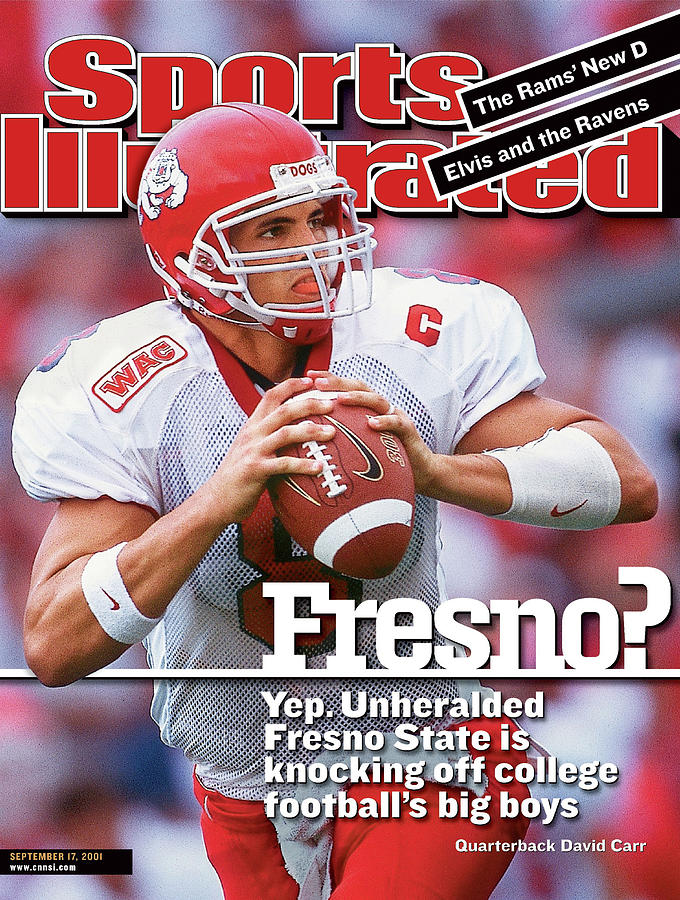 7. What non-Fresno State team does your fan base feel the most kinship with?
As crazy as I sound, Boise State. This is from a personal perspective. When all the competition between the two teams are done, I can't count the times I have seen die hard Fresno fans rooting for them to take down any "big guy." This goes back to the all famous Fiesta Bowl. I happened to have gone to it with my father as we were in the area. We donned our Cardinal and Blue and stayed true! And it was the most welcoming environment by the Boise State fans in the stands. To jump on this, the old MPC Computers Bowl (now Idaho Potato Bowl?) is played in Boise, and Fresno had a streak of going there for awhile. MANY fans would say the same statement "bulldog today, bronco forever" it really resonated to me as a fan and I truly think that made a great kinship. If not, USC because of the LA-Fresno connection being so close.
8. Any thoughts on the current trajectory of the football program overall?
I think it's going up! I believe the team has so much potential for the future and if recently new coach Kalen Deboer can turn Indiana's Offense around in one year (he was the OC) I think he can make a great future for the Valley.
9. What's a unique Fresno State student/campus tradition - game day or otherwise?
"The red wave," it is what the fan base is named, and known for, a really good crowd for the all famous "wave" the whole stadium will get into it, and then East side of stadium will yell "Fresno" while west side of stadium will yell "State." It truly gives chills in big games that are close/winning.
10. Prototypical game day beverage?
Something cold. Can't be stated enough. It was 117 in the bowl last week and that usually goes year round with a hot start to the game. They just approved beer around 2-3 years ago in Mountain West and it is often the longest line, followed by lemonade.
11. Best celebrity Bulldog fan?
Not many celebrities are Fresno State Fans I believe, unfortunately, that aren't already sport stars. So I would have to go with Derek Carr (LV Raider QB), or Aaron Judge (Yankee outfielder) who both attended school, and AT LEAST one football game a year both of them.
12. If you could pick one Duck player, aside from Henry Kattleman or Kayvon Thibodeaux, to be on your team - who do you take?
Mykael Wright. CB is a position that always haunts Fresno, and I don't think I need to explain to you the Ceiling for this player.
13. If the Bulldogs were a Marvel character, who would they be and why?
I'm assuming you mean MCU, so I will go with Hawkeye. Nothing flashy, nothing that makes you superbly better than another character, but always ready, and always in the fight and willing to do whatever it may take to face Anyone, Anytime, Anywhere. Go dogs!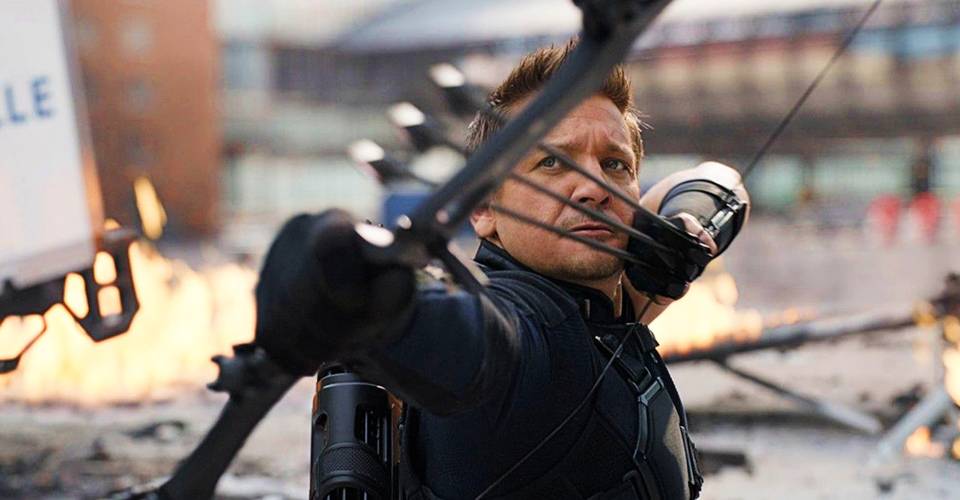 Well, that wraps up the 2021 Inaugural 13 Questions. Thank you again to sidious256 for taking the time to give Duck fans a peek into the Bulldog fan-brain. Also thank sidious256 for knowing that "dawgs" aren't a real thing; but DOGS are.
And if you see Patrick, punch him in the nose… but then you should probably run for your life because he's probably a Hell's Angel.